Choreographies inspired by Christian music and hymnology
INTRODUCTION
Music and Poetry used in the Christian Cult
Concerning the two traditional church groups : oriental and roman catholic, music varied according to historic  periods and particular churches  . However hymnology evolved in time but concerned all churches of each of the two  great traditional groups .
For exemple , the same  poem  may have a different musical interpretation in byzantine ,russian, georgian or arabic music but the lyrics remain the same.
The arrival of various protestant churches has still enriched christian heritage in music and poetry


Music and Poetry inspired by  the Christian cult
This concerns principally compositions based on hymns used in the cult
Various composers almost all in western tradition since the 13th century have created music either  on liturgical texts (Ave  Maria, Requiem, Latin Mass, Te Deum etc) or at most recent times on non liturgical poetry
Non liturgical poetry means either a free  compilation of sacred texts (ex "German Requiem " of Brahms) or just an inspired poetry (ex "German Mass" of Schubert)
Creation of choreographies
Like Maurice Béjart who created choreographies on musical works which were not composed to be danced , since the 20th century some artists started dancing  or creating  choreographies inspired by christian hymns and music . Though this tendency is still marginal, it is growing quickly .
The CID , considering that there is a huge unexploited field of inspiration  and spiritual elevation , strongly encourages its Members and Friends to work in that direction considering that, apart from its cultural interest , it can inspire feelings of fraternity and peace conform to the noblest goals of UNESCO
Examples of existing choreographies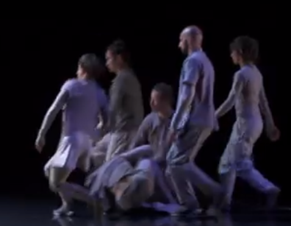 Fragments of Mozart Requiem with the choreograph Yoann Bourgeois.
The astonishing choreographic gesture of aesthetics and symbol signed Yoann Bourgeois for this Mass of the Dead: the bodies fall in free fall from the top of this wall, to finally slide smoothly until they disappear into the holes in the ground. One after another, souls thus take refuge from Paradise to Hell. They then throw themselves into it in pairs, hold back, pull themselves together, try to save themselves in vain, resign themselves to following each other into the abyss.
See video  teaser …..                                 credit : InsulaOrchestra 
 
Ave Maria on the song by Charles Aznavour
Ballet on the song « Ave Maria » by Charles Aznavour "Avé Maria" given in 1996 in the  gala: "Les chansons françaises"
See video   …..                                Credit :    Florence Bouilleaud
Te Deum by Pascal Rioult
RIOULT was founded in 1994 and fast became an established name in modern dance with a reputation for creating and presenting the sensual, articulate, and exquisitely musical works of Pascal Rioult. Born into the American modern dance tradition, RIOULT is creating its own legacy of contemporary dance that speaks to the mind and heart. The company of nine dancers is based in New York City and presents an annual New York season, tours nationally and internationally and conducts community engagement activities in the tri-state area and while on tour.
See Video …..                      Credit : RIOULT Dance NY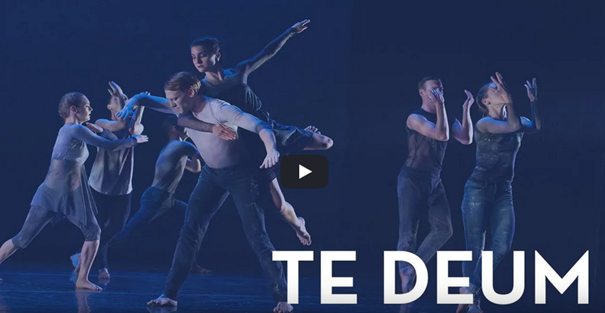 Mozart The Great Mass by Leipzig Ballet

The Great Mass is the spiritual keystone of a choreographic undertaking in which Uwe Scholz absorbs the structure of the liturgy of the mass. He adds to Wolfgang Amadeus Mozart's unfinished Great Mass in C minor other works by the same composer, such as the Adagio and Fugue in C minor and the motet Ave verum corpus. He also puts in passages of Gregorian chant, sequences from contemporary music by György Kurtág, Thomas Jahn and Arvo Pärt, and readings of poems by Paul Celan. Mozart's music becomes a mould in which Scholz casts his choreography. – A truly impressive requiem; a choreographic revelation.
Read Euroart …..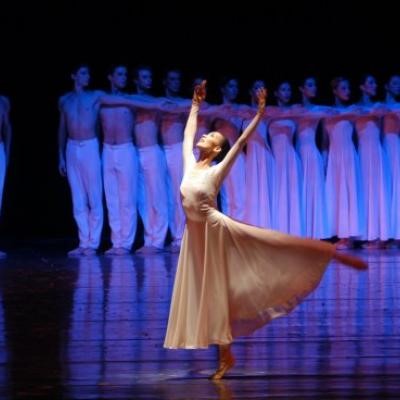 Misa Criolla by  Ballet Eddy Toussaint de Montréal
The music was composed in 1964 by Ariel Ramírez with High Andes folk genre influences and instruments. Eddy Toussaint in 1980 combined the indigenous music with Western ballet to make the interesting and engaging fusion you see here. Woven into the choreography are religious overtones, but mainly the whole presentation is simply beautiful.
See video ……                                                        Credit : Openmystic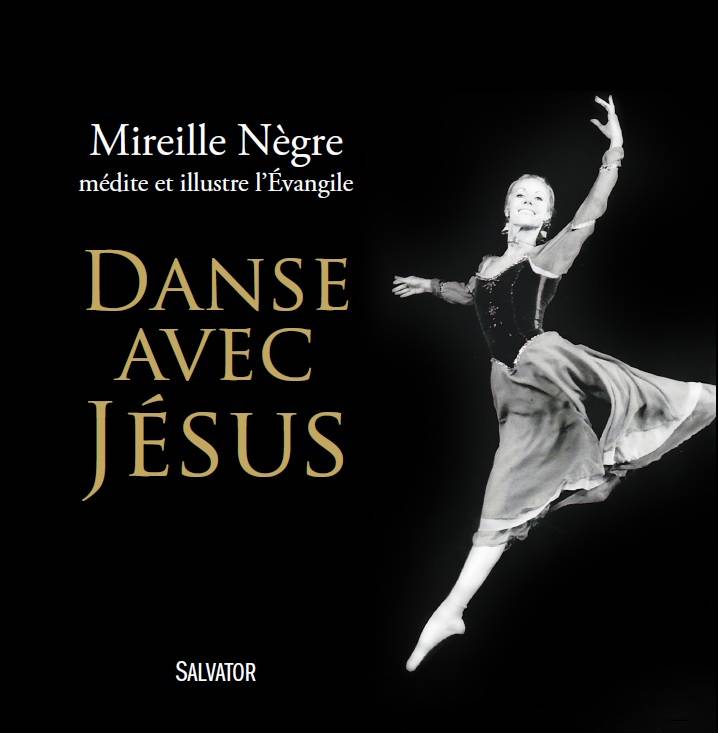 Mireille Nègre
Mireille Nègre, born in November 18, 1943 in Paris, is a French dancer, writer and pianist. She was principal dancer at the Paris Opera and international star dancer. She is  considered as one of the most prestigious of her time . Her religious vocation led her at the age of 28 to become a Carmelite for 10 years at the convent of Limoges. She leaves Carmel for the Visitation at Vouvant in Vendée; She is also a "consecrated virgin". She is a choreographer and director of a dance academy in Paris, representative of the association "Danser pour la Paix" (Dance for Peace)

Read :  Mireille Nègre danseuse consacrée
Credit Image : Librairie Dialogues
The treasure of Oriental churches
The  Western Christian Music is world-renowned , whereas the heritage of oriental churches is generally unknown even between orthodox Christians who just have a knowledge of their proper church's hymnology and ignore the others
To inform our readers and  inspire our dancers here are some samples of this inheritance
Of course many others are not mentioned but are worthy to be discovered (ex Bulgarian, Ukrainian ,Arabic ……)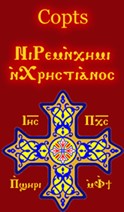 Coptic music
Coptic music is sung and played in the Coptic Orthodox Church of Egypt). It consists mainly of chanted hymns in rhythm with instruments such as cymbals (hand and large size) and the triangle..
Coptic chant is a very old tradition, assumed to have links with the ancient liturgies of Jerusalem or Syria, while some of the melodies had been adopted from Ancient Egyptian burial practices and other rituals;.
The percussion instruments used in the Coptic Church are unusual among Christian liturgies. Since similar instruments appear in ancient Egyptian frescoes and reliefs, some believe that they may represent a survival from a very old tradition.
Listen to "Kyrie Eleïson"                                                              credit : DivineAegis02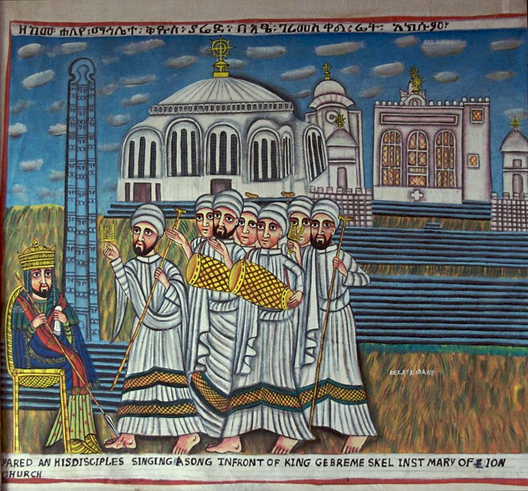 Ethiopian music
Ethiopian liturgical chant, or Zema, is practiced by the Ethiopian Orthodox Tewahedo Church. The related musical notation is known as melekket. The tradition began after the sixth century and is traditionally identified with Saint Yared. Through history, the Ethiopian liturgical chants have undergone an evolution similar to that of European liturgical chants.
Image : St Yared and Disciples singing before king Gebreme              Credit : Wikimedia
Listen to Psalm 73              credit : Credit Bekhit Fahim 1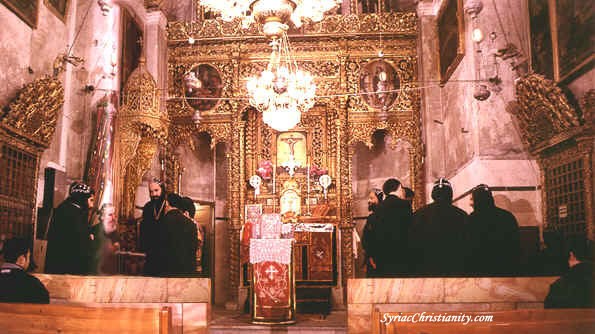 Syriac sacral music
It is the music in the Syriac language as used in the liturgy of Syriac Christianity. Historically it is best known from and important for its part in the development of Christian sacred music since Antiquity.
The Syriac Churches have a musical system based on ancient principles today known as maqam The most predominant works of the Syriac Church's music was collected in an anthology named Beth Gazo (Psalms of the Treasury of Maqams). There are also musical psalms other than this repertoire of 700 psalms, among them are the Fenqitho of the Syriac Orthodox and Maronite Churches, as well as the Khudra of the Church of the East.
Listen to a "Trisagion" in Aramaic   Credit : AssyrianEasternOrthodox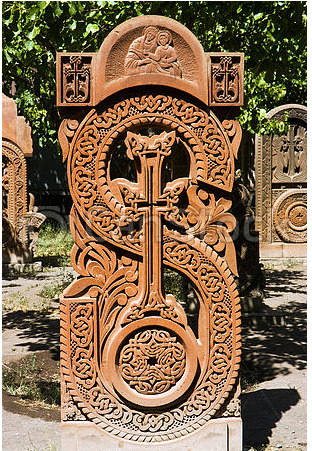 Armenian chant
Armenian chant (sharakan) is the monophonic chant used in the liturgy of the Armenian Apostolic Church.
It consists mainly of hymns. The chants are grouped in a system of eight modes The oldest hymns were in prose, but later versified hymns, , became more prominent.
Armenian chant is now sung to a precise rhythm, including specific rhythmic patterns which are atypical of plainsong.
The chants used by communities in the Armenian Diaspora are usually harmonized and differ from the original forms. The source of the most traditional music is the liturgies at Echmiadzin, the religious center of Armenia.
Image
Armenian cross-stone khachkar at the Yerevan.      Credit : CanStockPhoto
Listen to " God Forgive Us "                        credit : greek Ieropsaltis

Listen to "Siqvarulma Mogiqvana"             Credit : Georgian Chant Org
(One of the only videos of the last generation of master chanters from the oral tradition of Georgian liturgical chant).
Georgian chant
Georgian chant is the music sung in the Georgian Orthodox Church for daily and weekly services. It is sung in three-voiced polyphony without instrumental accompaniment. There are many musical styles and performance practices, and a long history of transmission and musical development. It has been sung since at least 326 AD, when Saint Nino, Enlightener of Georgians, converted King Mirian and Queen Nana of Iberia, a Georgian speaking kingdom in the South Caucasus region.
Byzantine Chant
The Byzantine music originally consisted of songs and hymns composed to Greek texts used for courtly ceremonials, during festivals, or as paraliturgical and liturgical music. The ecclesiastical forms of Byzantine music are the best known forms today, because different Orthodox traditions still identify with the heritage of Byzantine music, when their cantors sing monodic chant out of the traditional chant books
This music has evolved from the 4th century till the ottoman occupation. At the beginning it was near to ancient Greek style and gradually it became more elaborate. During the Ottomans  its evolution was slower and the oriental style persisted preventing any evolution similar to that of the occidental music

Image
Christ Pantocrator  in Hagia Sophia      credit : ByzantineHymns3
Listen to the Hymn of Christmas        Credit : ByzantineHymns3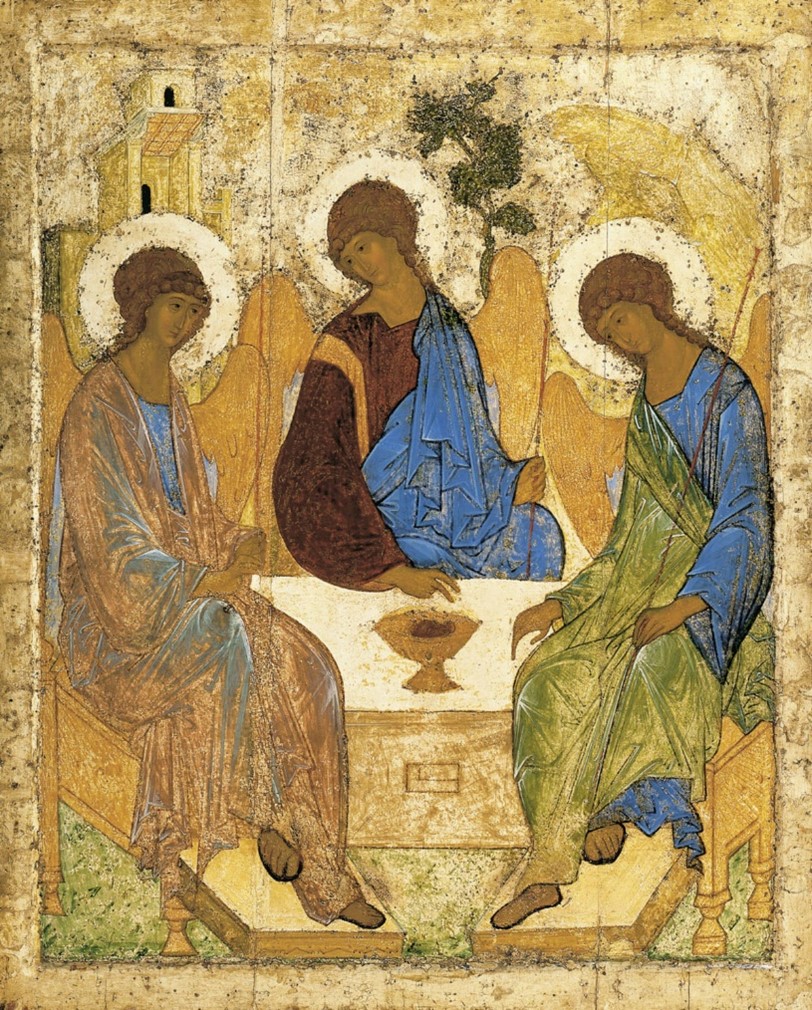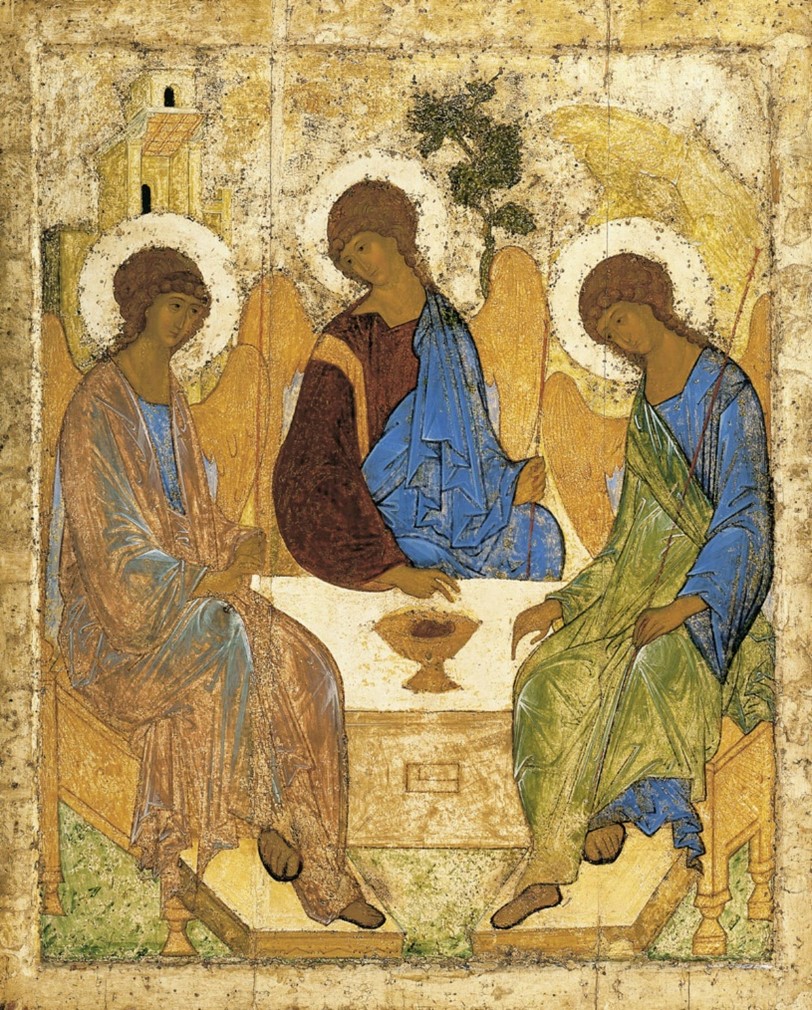 Russian Liturgical Music
The musical tradition of the Russian Orthodox Church began with the importation of the Byzantine Empire's religious music when the Rus of Kiev converted to Orthodoxy in 988. This Byzantine chant quickly changed to a distinct Russian style, the Znamenny Chant which flourished and spread to the north (Novgorod principally) and southwest and begun its evolution to more elaborate
The 17th century was marked by reforms replacing  the Znamenny chant.
Over the beginning of the 18th century, the church services used choirs instead of laity to sing, and the institution of a musical Ordinary, set polyphonically in the Italian style and drawn from the modernized chant and folk songs, called Obychny.
Image : Trinity by Andreï Roublev                                  credit : Wikipedia
Listen to "Let My Prayer Arise"                               credit : Russia Insight 
The CID s perspectives
A part  of  the pioneer liturgical dancers , many of our Members have already danced or are interested in creating choreographies on Christian inspired music
Ex
Nathalie Guillemé has presented 4 choreographies of Ave Maria in the Nassau CID Congress in 2019
Claudine Gerez is specialised in Hildegarde von Bingen
Lone Rorely dances on Christian hymns
etc etc …..
What to do next ?
As soon as the pandemic is over (this article is written in october 2020) , we suggest presenting performances with simple choreographies on classical hymns to various places : townhalls, cultural centers , monuments and particularly churches in a limited public (100 persons)
The experience will gradually combine more elaborated choreographies including hymns of other religions and broader publics


We will also create online events or seminars on those subjects

Constantin Kontogiannis wrote a draft which is a first approach of presenting some classical church hymns , their story, their lyrics and various occidental and oriental musical interpretations . This draft may inspire the forthcoming events
Our warmest wish is that choreographies on sacred music of all spiritualities including the artists own feeling of what is sacred happen frequently all over the world and fulfil a profound need of people in those troubled times   
Top photo : "Hildegarde Von Bingen messager of the invisible"                               credit : Claudine Gérez                      
Show performed in the Cathedral Saint Vincent of Chalon-sur-Saône in 16 september 2017